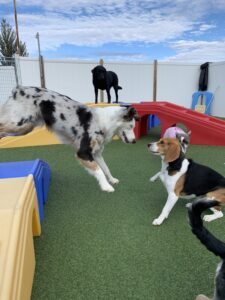 Our dogs receive free play under the supervision of trained attendants. Dogs get great stimulation and exercise. Whether it's once a week or every weekday – routine appointments are best for your dog's fulfillment. Daycare reservations are required as we have spots fill quickly.
New customers must submit registration form, proof of vaccinations, and schedule their $20 evaluation day.
Dog Daze Playcare requires a 72-hour cancellation notice for scheduled daycare.
Single Full Day Daycare

$36

*all packages are non-refundable and expire in 60 days and require 72 hour cancellation notice.
To be eligible to purchase discount packages, all dogs must be on a repeating schedule (same days each week). All packages expire in 60 days.